Last Updated on September 13, 2018
Hellooooo, akhirnya memberanikan diri (dan menyempatkan diri – yeay I found the time!) untuk mereview film lagi! Okay, sudah beberapa lama ini saya tidak ke bioskop, but thank you to Netflix dan beberapa aplikasi streaming, akhirnya bisa nonton film lagi saat Rio bobo, yeay! Film yang ingin saya ulas sedikit kali ini adalah sebuah film Netflix yang fenomenal berjudul To All The Boys I've Loved Before. 😀
Another Rom-Com?
Yes, bagi yang mantengin (dan follow) IG saya, I am completely smitten by this movie! Film ini adalah adaptasi dari novel berjudul sama karya Jenny Han. Genrenya adalah Rom-Com alias romantic comedy yang super ringan. Durasinya juga hanya 1 jam 40 menit. So it's pretty straight foward.
Saya mengetahui film ini dari instastories salah satu teman saya yang bilang "This movie will make you feel like a teenage girl again". Penasaran dong yaaa. Akhirnya nonton dan BENER! Sepanjang film saya deg-degan dan senyum-senyum sendiri macem ABG yang punya gebetan baru (which I did! hahaha). Ga heran yaaa di Rotten Tomatoes ratingnya aja 96%.
Lara Jean: I wrote five letters, so don't go feeling too special.
Peter: You wrote five love letters?
Lara Jean: Yeah.
Peter: Damn, Covey, you're a player.
Summary Film To All The Boys I've Loved Before
Secara singkat, cerita ini adalah tentang seorang gadis remaja blasteran Korean-American, Lara Jean Covey (Lana Condor) yang punya kebiasaan lucu. Kalau dia suka sama orang, dia menulis full on love letter ke orang tersebut, dikasih alamat lengkap dan semacamnya TAPI tidak pernah dikirim.
Semuanya disimpan di dalam box pemberian Ibunya di dalam lemari. Ya semacam healing theraphy karena setelah dia menuliskan surat itu, ya dia tidak ada perasaan lagi. The feelings are all gone, stored safely in the letters.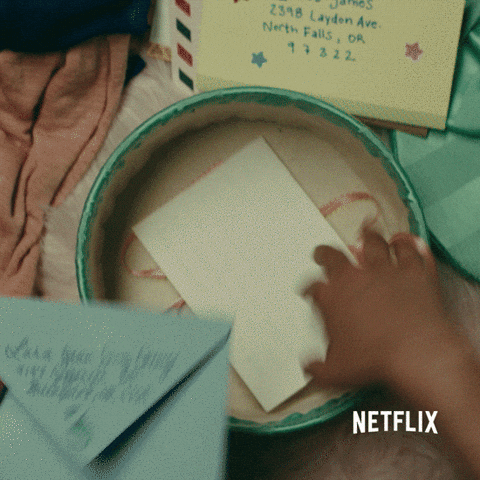 Nah suatu hari, tiba-tiba salah satu gebetan di masa lalunya Lara Jean, Peter Kavinsky (Noah Centineo) mendapatkan surat cinta itu. LOH KOK BISA? Berarti terkirim dong. Semuanya. Terus Lara Jean harus bagaimana? Kan salah satu surat yang terkirim ternyata tertuju ke mantannya kakaknya………….. Bhaique.
Makin ribet kan ya. Jadi akhirnya, Peter memberikan ide (yang sepertinya) fantastis yang bisa Lara Jean lakukan untuk menyelamatkan mukanya di depan all the boys that she loved.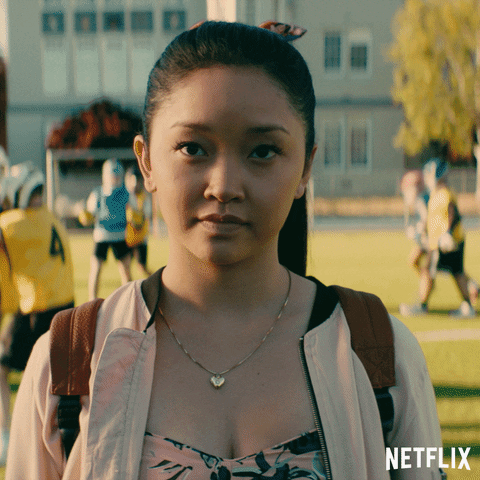 Apa idenya dan bagaimana akhirannya? No spoiler disini hihihi. Silahkan tonton yaaa. Nih saya berikan trailernya jika penasaran seperti apa kira-kira ceritanya.
So if I went all the way across town to get something you like, that means… – Peter Kavinsky
What I Thought About the Movie
Yes, I enjoy this movie so much that I watched it multiple times. Especially my favorite scene! Abisnya gemash melihat Lara Jean dan Peter Kavinsky membuat kesepakatan bersama mengenai rencana mereka.
Keliatan banget kalau Peter itu punya ketertarikan ke Lara Jean, lebih dari yang dia ungkapkan. I mean you can look at his eyes, eyes never lie. Terus lokasinya bagus pula dibawah pohon Sakura (kayanya ya soalnya pink semua bunganya hahaha).
Yang membuat saya kesemsem sama film ini adalah karena ada the Lara Jean-Peter friendship/relationship that is super dynamic and adorable! Lara Jean adalah typical the girl next door, ga neko-neko dan pokoknya ga mencolok sama sekali di sekolah. Just normal. Sementara Peter Kavinsky adalah atlit sekolah yang super popular dan super PD.
Jarang ada rom-com yang menunjukkan cowo alpha male nan macho yang ternyata juga punya sisi sensitif & peduli sama hal-hal kecil di balik semua itu. GIMANA GA MELTING. Apalagi liat Noah Centineo. Bisa bikin blog post sendiri soal dia hahahaha.
Di balik ceritanya yang gemas, cara pengambilan gambar dan POV film (yang diceritakan menurut POV Lara Jean, sesuai dengan di buku) cukup simpel namun menarik. Lagu soundtrack yang dipakai juga pas dengan dan easy listening. Cuman saya agak bingung sama casting untuk keluarga Lara-Jean. Mereka seharusnya Korean-American, tapi kok kakaknya agak Hispanic ya. Hmmm, baik.
Apa Bedanya Dengan Versi Buku?
Tentu ada berbagai perbedaan versi film dengan versi buku. Di dalam film, Lara Jean terkesan lebih PD dan lebih mandiri. Di buku, dia lebih digambarkan sebagai orang yang agak bingung dengan keadaannya sendiri dan selalu bergantung ke keluarganya.
Di buku juga menunjukkan Peter yang lebih egoistic dan menyebalkan. Pokoknya tidak ada Peter yang menggemaskan dan so sweet ala di film pada buku pertama. Jadi jangan kaget ya (saya kaget loh pas baca hahahaa kok jadi ngeselin).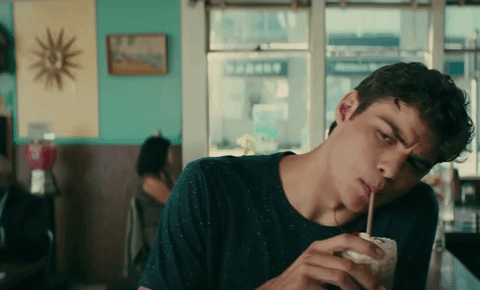 Lesson Learned from To All The Boys I've Loved Before
Don't be afraid to love.
Don't be afraid to tell someone that you like/love them.
Sama jangan menyimpan surat berharga sembarangan. Nanti akan jatuh ke tangan yang salah hahaha.
Bagi yang sudah baca seri bukunya (I read all 3 in 5 days!), pasti pengen ada sequel lagi. Daaan sepertinya hal itu akan terkabul mengingat ada ending scene yang cukup berperan penting dalam kelanjutan cerita ini. Yaa, semoga Netflix mau mempersatukan Lara Jean & Peter kembali di dalam film berikutnya. Because I certainly want more!
Nah siapa yang sudah nonton juga? Dan ikutan tergila-gila dengan si Peter versi Noah Centineo di film To All The Boys I've Loved Before? *lirik ke diri sendiri* Leave your comments down below 🙂